Say Goodbye to Boring Meetings: Figma's AI Tools Inject Life into Your Collaborative Sessions
Design software outfits love making grand claims about what their AI tools can do for creativity. Everyone is caught up in the AI hype machine, and the productivity space is no different.
Figma, however, is flipping the script with its fresh AI features, vowing to turn your meetings up to 11.
In a recent announcement, the collaborative design software behemoth introduced FigJam AI. Powered by OpenAI tech, the firm behind ChatGPT, this AI-assisted digital whiteboard lets you whip up meeting agendas, org charts, and flowcharts in no time.
Not to sound dramatic: But meetings will never be the same again.
Picture an icon resembling a burst of sparkle; that's your entry into a widget where you can engage in ChatGPT-style conversations or choose structured options to neatly sort and summarise information.
As someone who uses ChatGPT regularly, I am excited about the impact it will have on my productivity, as well as my teams.
FigJam AI: Navigating the Unique Landscape of UX in the Remote Work Era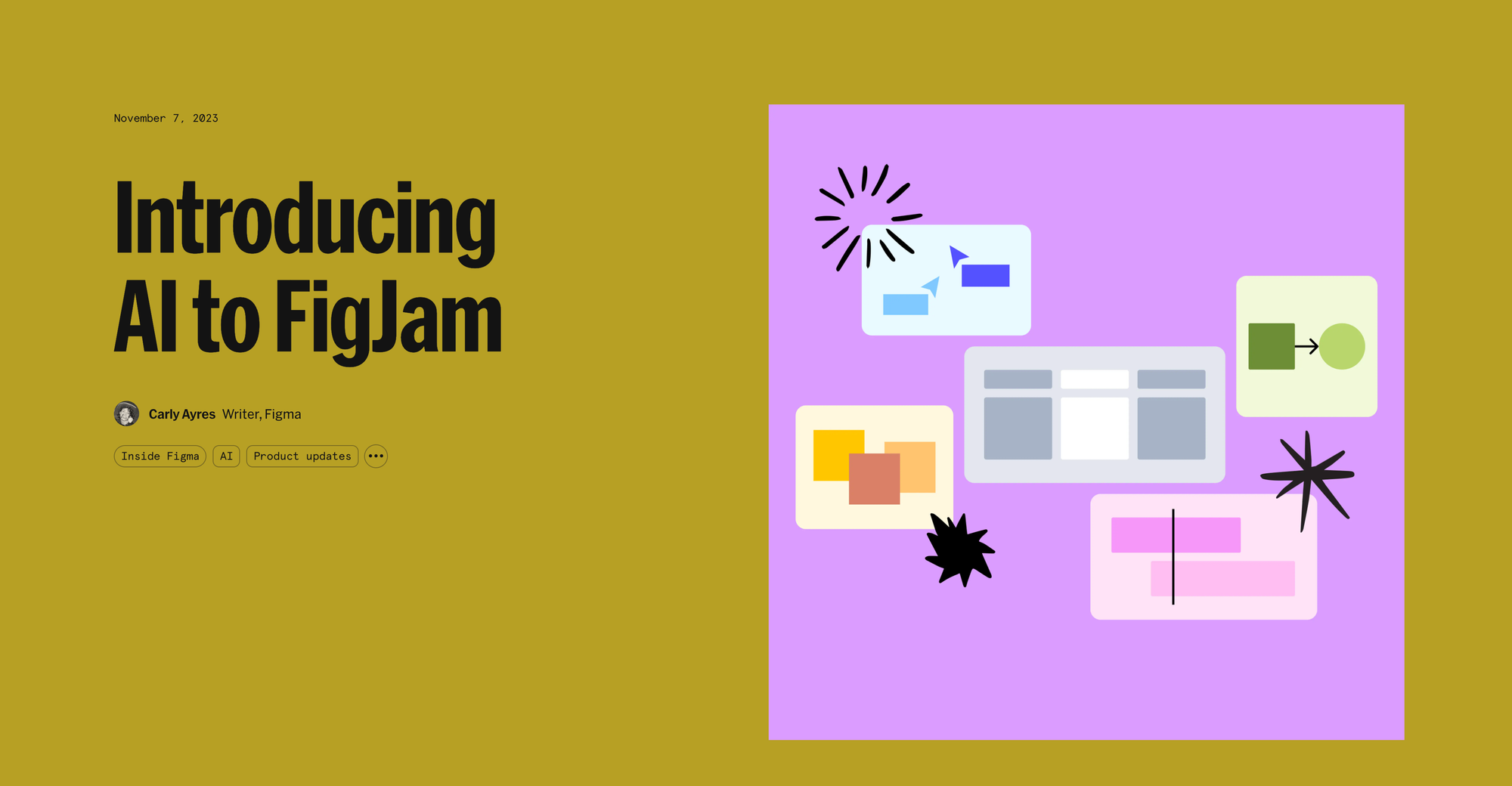 With remote and hybrid work becoming a lasting norm, the Figma team has not only considered the functionality of FigJam in this context but also contemplated how AI can elevate its capabilities.
This shift, accelerated by the pandemic, prompted teams around the world to explore remote tools. Not just design teams, it should be said, but teams that may do little in terms of design work.
Given that two-thirds of Figma's daily active users are non-designers, ensuring FigJam AI is user-friendly across diverse profiles became a paramount goal.
Even non-designers use Figma.
Figjam was one such tool that teams explored. Its infinite canvas being used for unconventional purposes during virtual meetings, turning them into lively sessions with games and icebreakers.
FigJam AI tackles specific challenges Figma identified during user research sessions that would enhance the user experience of its digital whiteboard. Figma, of course, isn't the first platform to inject some excitement into their product by joining the AI revolution, but the potential is clear.
Although FigJam creates a dynamic digital space for more engaging remote meetings than Zoom or Slack alone, the setup process could be time-consuming, leaving some users unsure where to begin.
FigJam AI's sort and summarize functions are crafted precisely for that, taking the complexity out of the equation for users.
Given that two-thirds of Figma's daily active users are non-designers, ensuring FigJam AI is user-friendly across diverse profiles became a paramount goal.
Jenny Wen, a design manager at Figma, notes, "Starting with a blank file can be intimidating. You might not consider yourself a visual thinker, and that's completely fine because not everyone's a designer."
FigJam AI steps in to simplify the process. It can automatically generate calendars, and Gantt charts, and even suggest agenda items based on user prompts. Moreover, it addresses the challenge users faced after extensive brainstorming sessions—how to distil the abundance of ideas.
FigJam AI's sort and summarize functions are crafted precisely for that, taking the complexity out of the equation for users.
FigJam: From Chaos to Corporate Productivity Mastery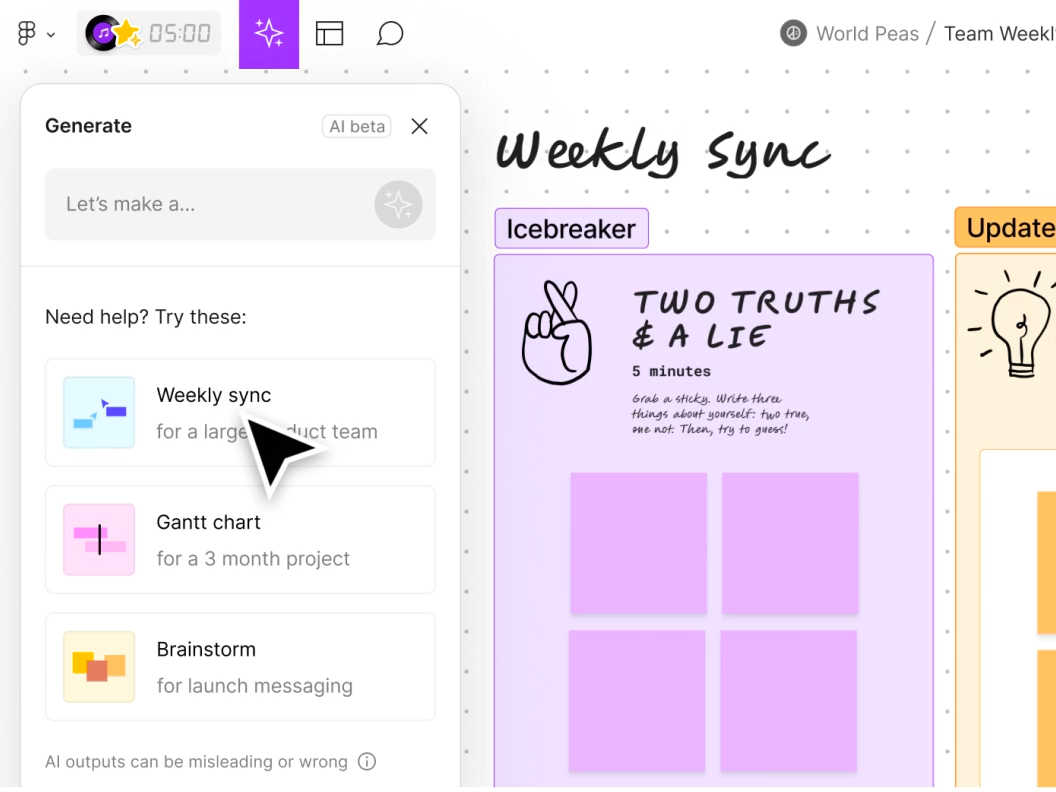 Figjam is all about collaboration on steroids. Brainstorming is given the freedom to run rampant, and there's an undeniable thrill. Yet, as Yuhki Yamashita, Figma's Chief Product Officer, acknowledges, the aftermath can feel a tad chaotic.
An explosion of ideas that, ultimately, someone has to sift through and organise after the session. So the pressing questions arise: What transpired in that brainstorming whirlwind, and how do you transform those ideas into actionable steps?
Figma's AI strategy takes a unique angle, steering away from a strict focus on the design process itself, but rather, zeroing in on productivity.
This emphasis aligns with Figma's pivotal role in corporate workflows—a space where it can be notoriously difficult for designers to collaborate with members from various teams.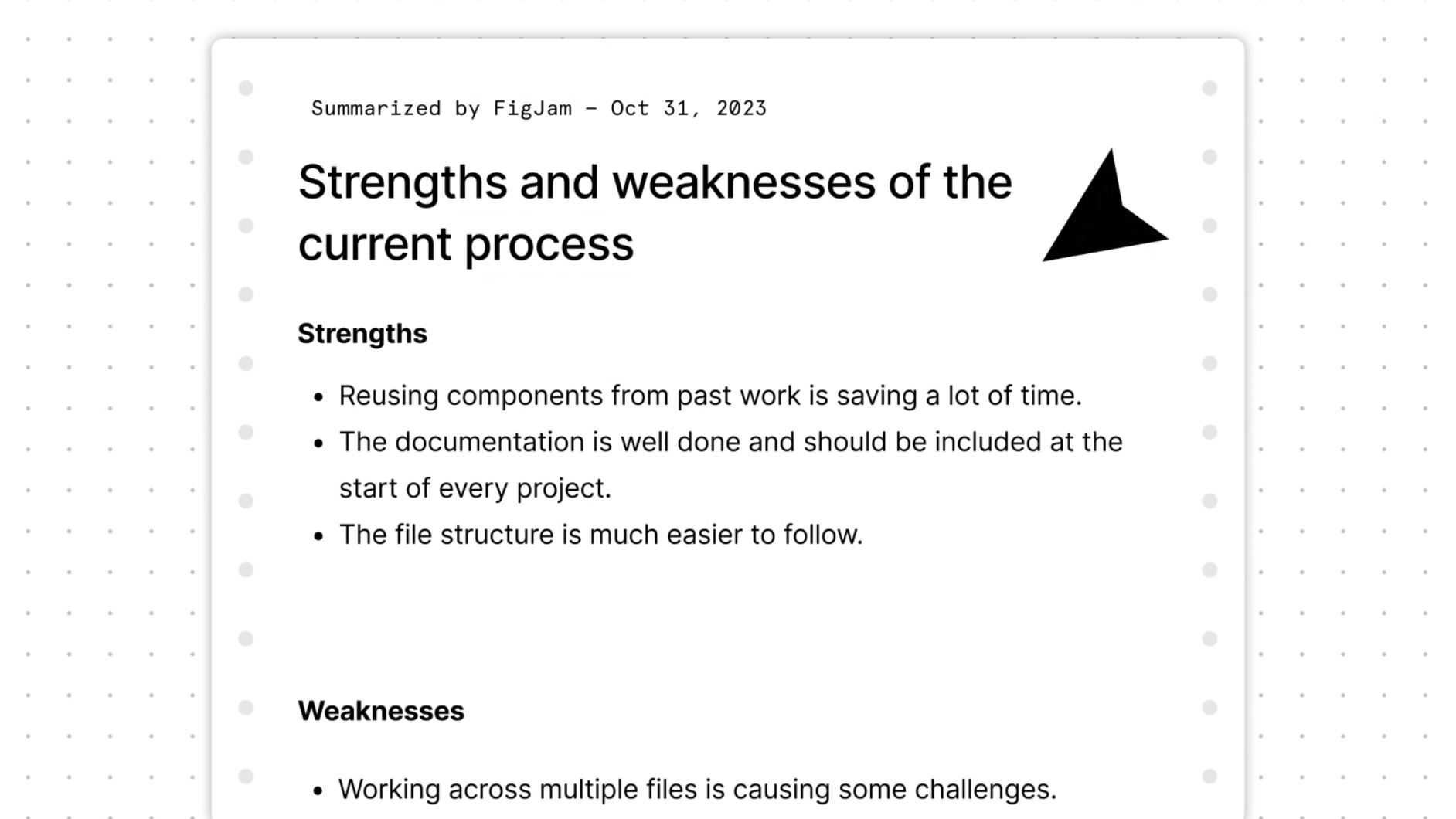 Above all, this highlights an interesting dynamic: A typical product has a team ratio of approximately seven developers to one designer who all actively engages with their software.
That's not including product owners and other stakeholders.
This is significant and highlights the potential reach Figma now has. They've grown far beyond their scrappy beginnings when they were fighting for Sketches market share.
While Sketch has seemingly stalled, Figma continues to make moves.
Back in June, Figma made a strategic move by acquiring Diagram, a creator of AI design tools founded by Jordan Singer. Interestingly, Singer had previously crafted a Figma plugin utilizing GPT-3 to spark design ideas.
This collaboration between Singer and the Diagram team extended beyond the acquisition, playing a vital role in shaping the vision, design, and development of FigJam AI.
While Adobe and Canva tout AI tools geared toward producing lifelike images or refining existing designs, FigJam AI takes a distinctive path. It positions itself as an assistant tailored for middle managers and beyond, aiming to streamline processes, save time, and eradicate the tedious aspects of the workday.
Figma: Seamless Integration with Teams, Zoom, Google
Figma's shift away from the typical design user is evident in their integration efforts. They've integrated its product with other productivity and meeting software, including Microsoft Teams, Zoom, and Google Meet, with more likely in the future.
And though Figma's $20 billion acquisition by Adobe has stalled due to regulatory delays, Figma is showing what integration could look like with at least some programs.
The company released a video late last month that showed a screen view of a team working between Figma and Firefly, Adobe's AI generation engine, to show how the programs together could turn a storyboard script into images and update product images live with artificially generated backgrounds without leaving the canvas.
The low barrier to entry to participate in meetings is a key differentiator that sets Figma apart from its competitors. Yuhki Yamashita, Chief Product Officer at Figma
Cursors labelled with people's names can react with emotes like flames and thumbs up, "lightweight ways to show, hey, I like this idea," and users' chats show up on the screen on their cursor.
This isn't new, of course, but it does show one thing. Collaboration is here to stay, and Figma will always be at the forefront of that experience - AI or not.